HVAC
ROAY Tech is a HVAC EPC (Engineering, Procurement and Construction) Company providing Heating, Ventilation & Air Conditioning Solutions to clients of various industries. We are leading HVAC Consultant & Engineers in North India, executing turnkey HVAC Projects all over the India.
Our team consists of dedicated, trained, experienced and professional HVAC Project Engineers & HVAC Technicians and work in unison to provide customized and effective solutions to all our clients.
HVAC system works on three principles – Heating, Air Conditioning & Ventilation, i.e. it conditions the air in the space occupied by the building, ventilates the air by diluting and removing contaminants present inside the building. When all these three principles work together, a complete purified air conditioning environment gets created. When an HVAC system is installed, it provides natural ventilation, reduces exposure to air-born biological threats and regulates the temperature according to weather conditions to make the occupants comfortable.
We are providing HVAC (Heating Ventilation and Air Conditioning) solutions all kind of requirements for Industries, Commercial Establishments, Pharmaceutical Labs & Hospitals Air Conditioning, High end Residence Air Conditioning. We have rich experience in project execution of all kinds of HVAC systems i.e. VRF/VRV, Chillers, Package and Ductable Systems.
VRV and VRF Air conditioning
VRV / VRF is a sophisticated and modern technology, which helps in reducing electricity consumption by regulating refrigerant flow of liquid. Hence, the machine performs efficiently according to human occupancy, direction of sun orientation, heat generating equipment.
VRF is to describe it as a large-scale ductless HVAC system that can perform at a high capacity. The specific design of a VRF system varies based on application. ... VRF systems can either be a heat pump system or a heat recovery system, which provides simultaneous heating and cooling
VRF systems use heat pumps or heat recovery systems to provide powerful heating and cooling for all indoor and outdoor units without the use of air ducts. With a VRF system, your building will have multiple indoor units utilized by a single outdoor condensing unit, with either a heat pump or heat recovery system
VRF systems are quite reliable. Additionally, they are also very quiet and operate at low decibels. In fact, occupants won't hear the typical loud noises associated with HVAC systems because the noisier condensing units are located outside the building.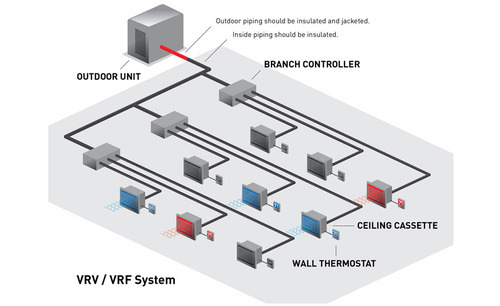 Packaged Air Conditioning
In the packaged air conditioners all the important components of the air conditioners are enclosed in a single casing like window AC. Thus the compressor, cooling coil, air handling unit and the air filter are all housed in a single casing and assembled at the factory location. A packaged system can also save you a great deal of money. Packaged units don't have to work as hard as traditional systems, which means they are much more efficient. As a result, they help you lower monthly energy bills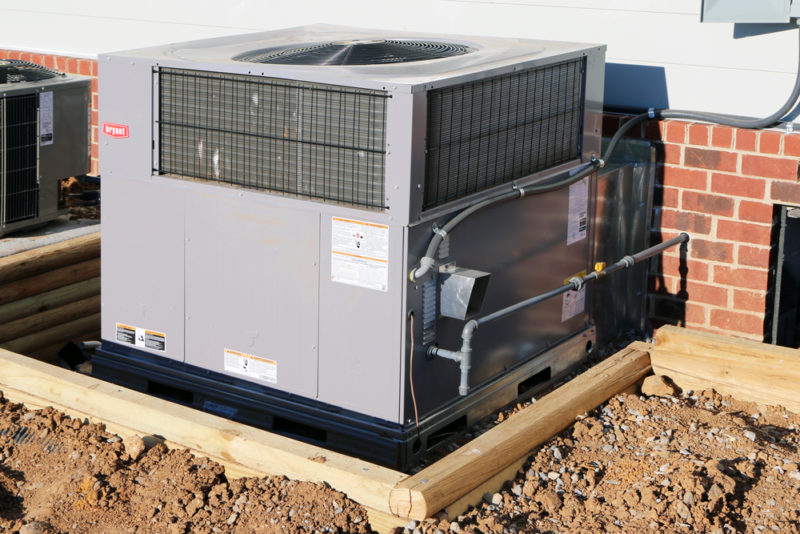 Ductable Air Conditioning
As the name suggests, ducted air conditioning provides heating or cooling through a system of ducts spread out all over your home or commercial space. ... It provides cool or hot air, which is then distributed throughout the building through a series of ducts and vents, providing the appropriate climate control. Ducts are conduits or passages used in heating, ventilation, and air conditioning (HVAC) to deliver and remove air. The needed airflows include, for example, supply air, return air, and exhaust air. Ducts commonly also deliver ventilation air as part of the Supply air.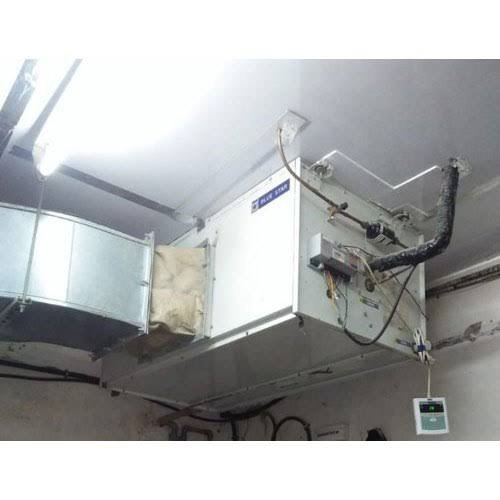 Centralized Air conditioning
To make the environment more comfortable Centralized Air conditioning is very known process to be used for changing the behavior of air. The defined aim of centralized air conditioning machines is to distribute the air at every corner where it is installed. It is used to offer more comfort for improving air levels within home, office or other big indoor areas. Supply air.